How to Build a Healthy Charcuterie Board
This post may contain affiliate links. If you click on a product or service and decide to purchase it, I may receive a commission at no extra cost to you.  Also, this information doesn't replace medical advice. Always consult your healthcare professional. For more information, please read my disclosures.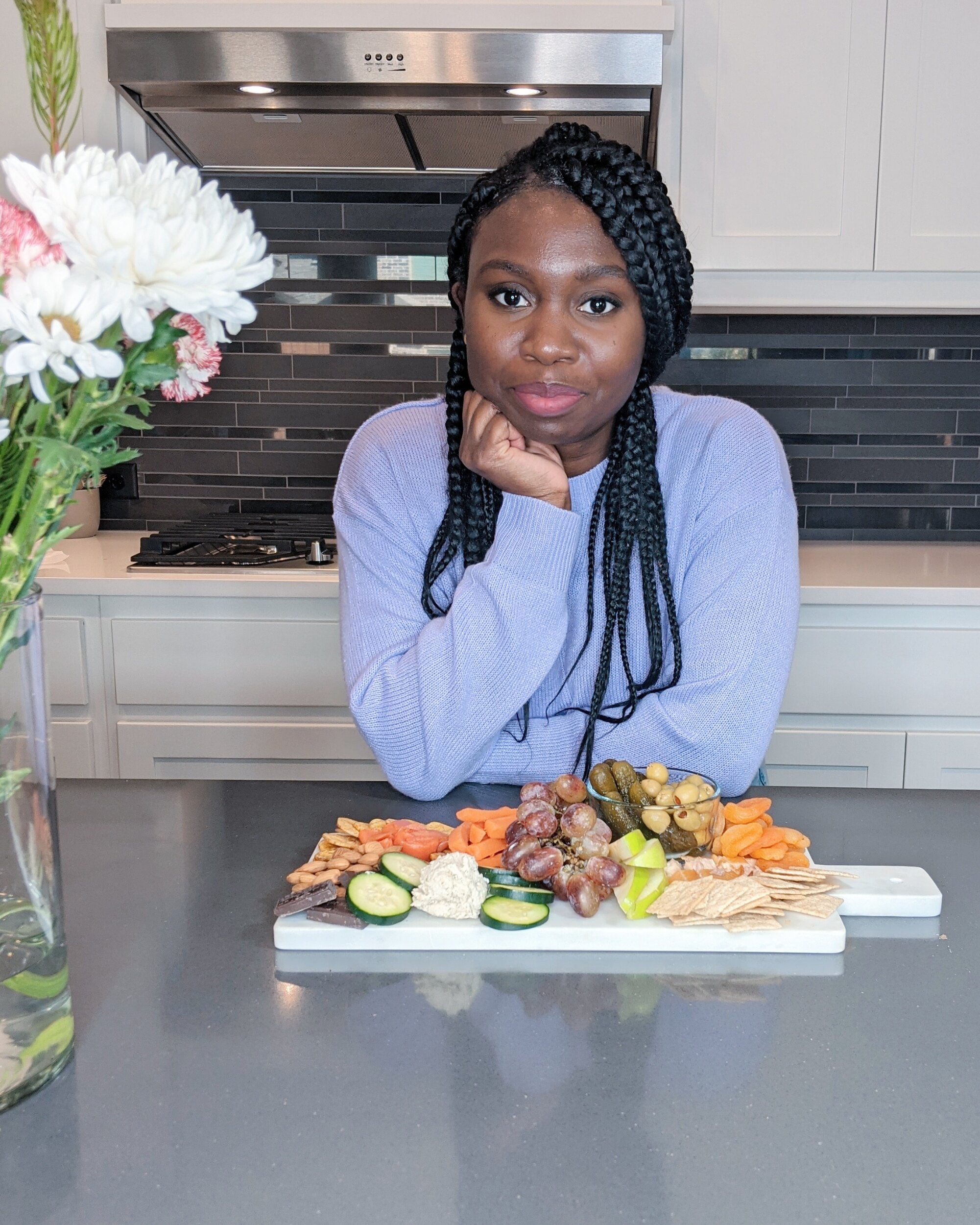 Now let's start building the perfect healthy charcuterie board. It's important to remember that just because you may be avoiding certain foods, your guests may not be. Keep that in mind when building a board for other guests.
Cheese Options
Vegan cream cheese (Miyokos)

Nut based cheese

Coconut oil-based cream cheese (Violife)
Protein Options
Common options: salami, prosciutto, soppresseta, ham, turkey
Here's another area where there are a variety of options. First off, I believe that if you decide to eat meat, it should be non-conventionally raised organic meats and seafood. These meats tend to be better for you and better for the environment. If you've removed meat from your diet or are on a plant-based diet, there are a few plant-based meat options that are soy-free. You have a lot of leeways here for proteins.
Organic meats (Applegates farms is one of my faves)

Plant-based meats (soy-free)

Hummus

Smoked salmon

Smoked trout
Nuts
Common options: Almonds, walnuts, pecans, chocolate-covered almonds
Nuts add some texture to your board. Be mindful of whether you have any guests with nut allergies. Also, remember that if you went with any soy-free meats or cheeses these are likely made with nuts. The only nut I'd avoid altogether is peanuts.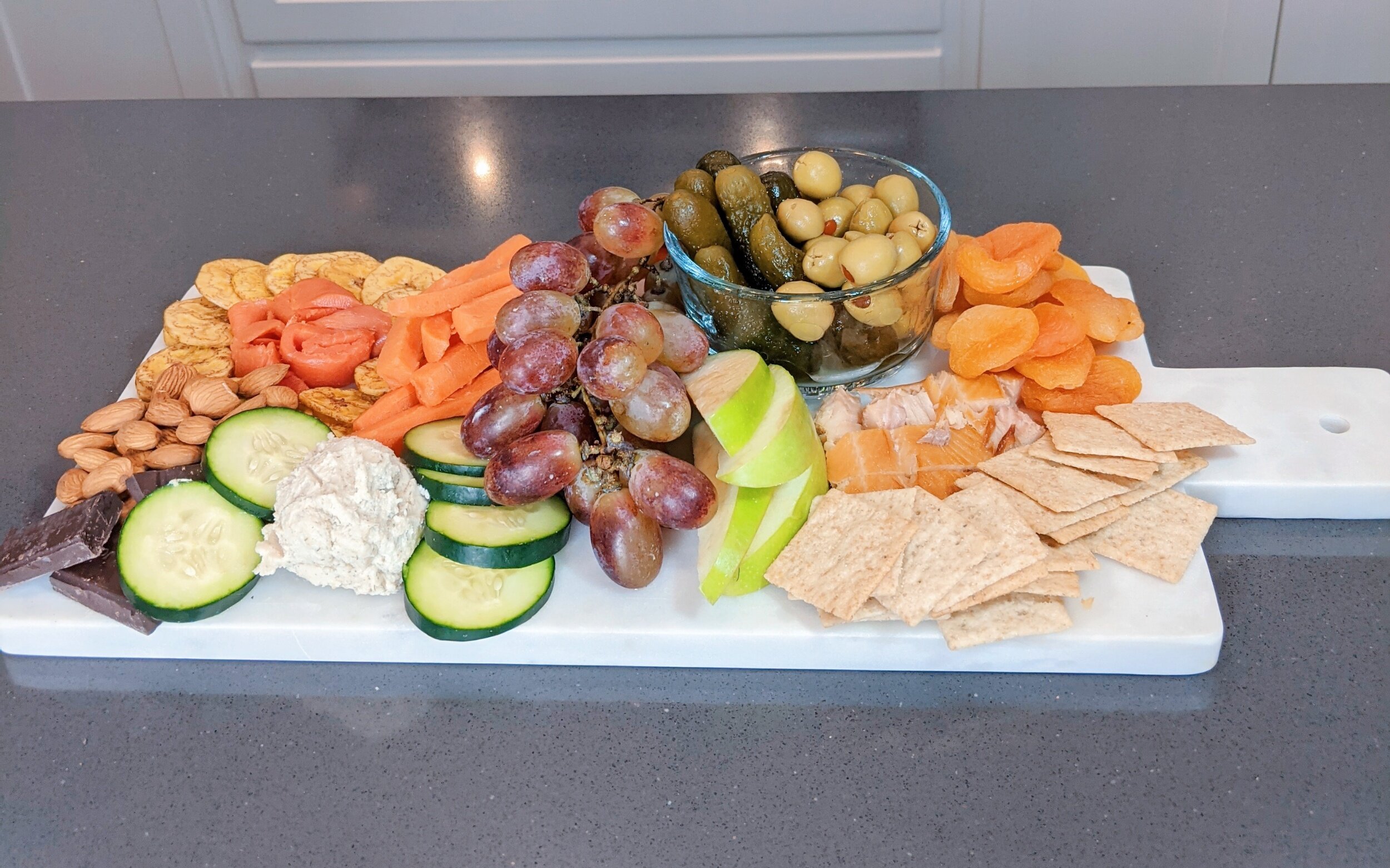 Dippers
Common options: Baguette, assorted crackers, pretzels, breadsticks
Crackers and bread are a must. Even if you're avoiding gluten there are lots of gluten-free crackers and chip options. Two of my faves are plantain chips and gluten-free bread toasted with ghee. It's also a good idea to include some veggie sticks for those calorie-conscious guests.
Plantain chips

GF toast

Carrot sticks

Celery sticks

Cucumber slices
Olives/Pickles
Common options: Stuffed olives, Tapenade, marinated olives, sweet pickles
Don't leave off the olives! You can serve them straight out of the jar, buy them stuffed or seasoned, or stuff or season them yourself. Sweet pickles are often on the ones you find at restaurants, but I would imagine that you could get a little creative here and try some more varieties if pickles are your thing.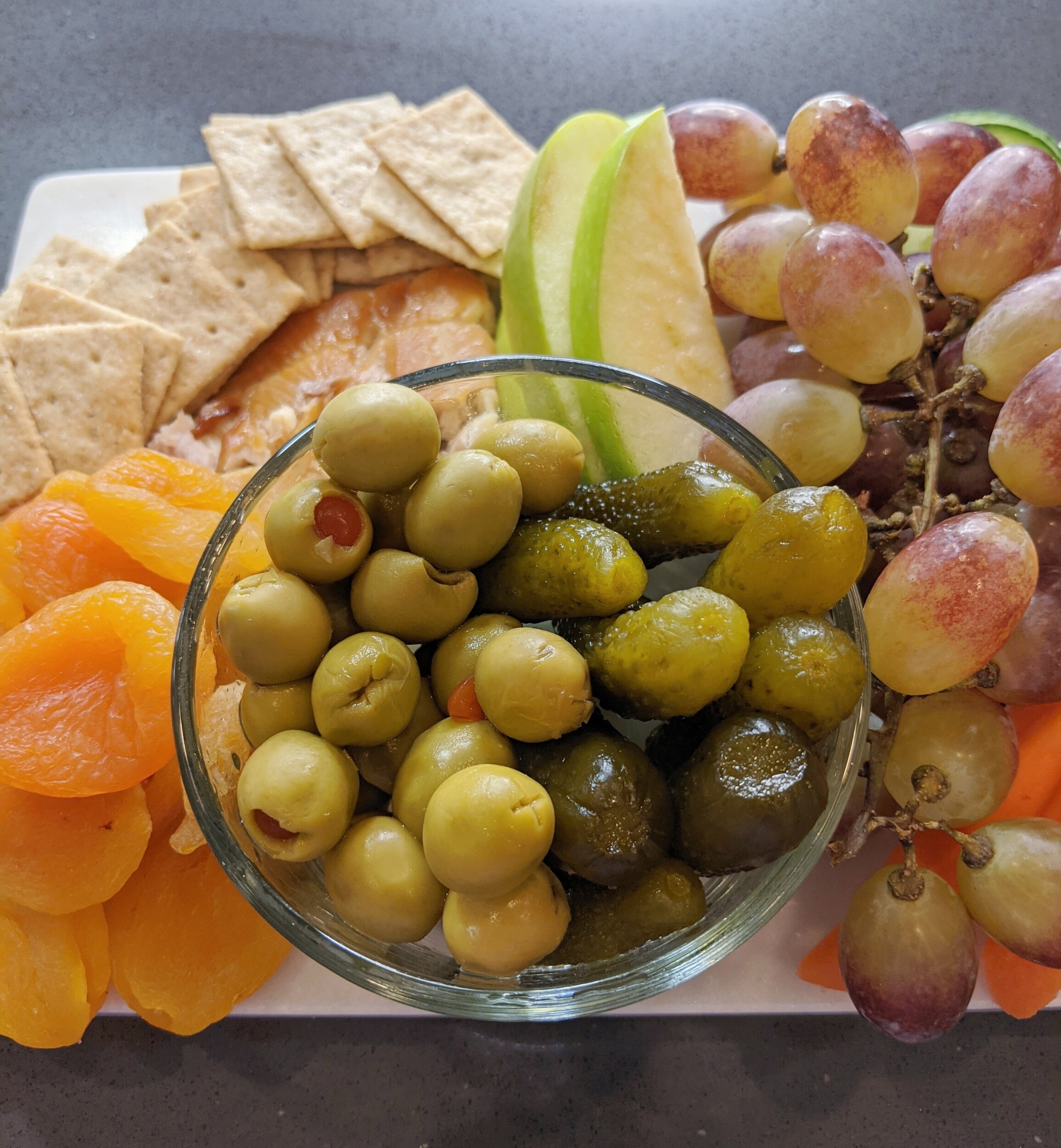 You Might Also Like: